Survival Supplies and Know-How!
Welcome to Prepper Gear
We have all recently witnessed the devastating effects natural and man-made disasters can have on those who are un-prepared. PrepperGear.com is proud to offer products from
1800Prepare.com
. They offer products that can help all Americans better prepare for emergencies of all types.
Disasters and emergencies take many forms and can strike suddenly, without warning. Natural disasters include hurricanes, earthquakes, tornadoes, wildfires, floods and snowstorms. Man-made disasters and emergencies include terrorist attacks, power outages/blackouts, chemical spills, auto accidents, structure fires, and a host of other calamities.
1800Prepare.com provides quality survival and safety preparation gear, including a wide assortment of emergency preparedness kits, along with a vast selection of first aid supplies, emergency food and water, survival tools, emergency flashlights, radios and other critical items. Don't wait until the next emergency strikes – get prepared now by visiting 1800Prepare.com!
GREAT DEALS:
Check out the best-selling Guardian Deluxe 2-Person
Emergency Preparedness Kit
from 1-800-prepare -- a $140 value, now just $70.99!
Click now to get prepared for any emergency!
Guardian Deluxe 2-Person Kit
$64.99
Item description (All items are packed securely in our Deluxe Hikers Backpack which contains extra space available for your personal items) The kit includes the following:
Food and Water:
12 – Boxes of Aqua Blox Water Boxes – twice the amount of water as leading suppliers and has a 5 year shelf-life1
2 – 400 Calorie Food Bars – 5 year shelf-life (4800 Calories)20 – Water Purification Tablets – each tablet purifies 1 liter of water Light and Communication:
1 – Am/Fm Radio with Headphones and Batteries
1 – Rechargeable Squeeze Flashlight – 3 LED flashlight which generates and stores power by squeezing the handle (NO BATTERIES NEEDED)
1 – 30 Hour Emergency Candle – can also be used as a stove
1 – Green Emergency Glow Stick – lasts for 24 hours
1 – 5-in-1 Survival Whistle – compass, signal mirror, flint starter, waterproof container, lanyard, and shrill whistle
1 – Box of 50 Waterproof Matches
1- Bic Style Lighter Shelter and Warmth:
2 – Emergency Survival Sleeping Bags – Recommended over…
---
NHC Atlantic Outlook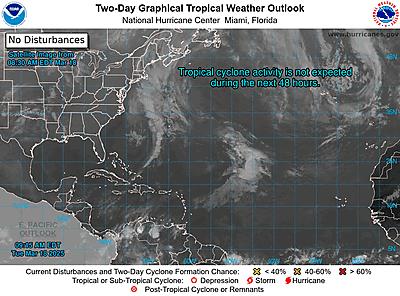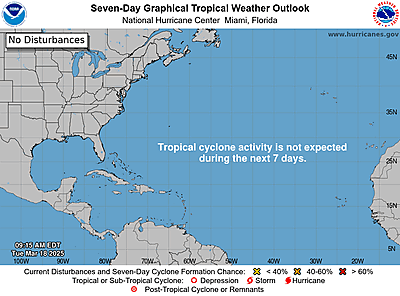 ZCZC MIATWOAT ALL
TTAA00 KNHC DDHHMM

Tropical Weather Outlook
NWS National Hurricane Center Miami FL
700 PM EST Thu Nov 30 2023

For the North Atlantic...Caribbean Sea and the Gulf of Mexico:

Tropical cyclone formation is not expected during the next 7 days.

This is the last regularly scheduled Tropical Weather Outlook of the
2023 Atlantic Hurricane Season. Routine issuance of the Tropical
Weather Outlook will resume on May 15, 2024. During the off-season,
Special Tropical Weather Outlooks will be issued as conditions
warrant.

$$
Forecaster Cangialosi
NNNN


NHC Eastern North Pacific Outlook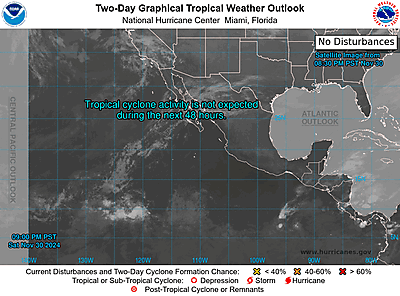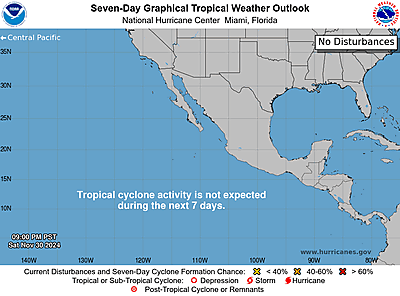 ZCZC MIATWOEP ALL
TTAA00 KNHC DDHHMM

Tropical Weather Outlook
NWS National Hurricane Center Miami FL
1000 PM PST Thu Nov 30 2023

For the eastern North Pacific...east of 140 degrees west longitude:

Tropical cyclone formation is not expected during the next 7 days.

This is the last regularly scheduled Tropical Weather Outlook of the
2023 eastern North Pacific Hurricane Season. Routine issuance of
the Tropical Weather Outlook will resume on May 15, 2024. During
the off-season, Special Tropical Weather Outlooks will be issued as
conditions warrant.

$$
Forecaster Cangialosi
NNNN


CPHC Central North Pacific Outlook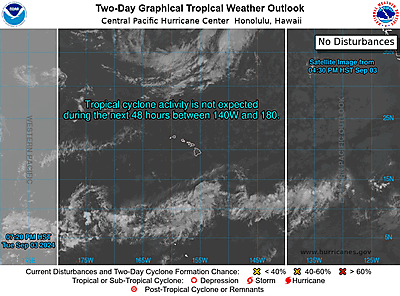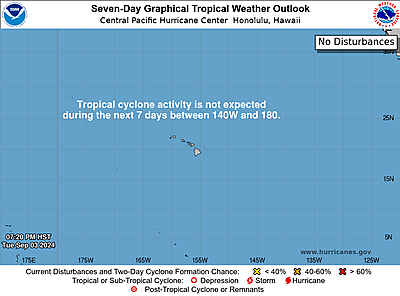 ZCZC HFOTWOCP ALL
TTAA00 PHFO DDHHMM

Tropical Weather Outlook
NWS Central Pacific Hurricane Center Honolulu HI
800 PM HST Thu Nov 30 2023

For the central North Pacific...between 140W and 180W:

No tropical cyclones are expected during the next 7 days.

The central North Pacific hurricane season officialy ends today,
November 30. The is the last regularly scheduled Tropical Weather
Outlook of the 2023 central North Pacific Hurricane Season. Routine
issuance of the Tropical Weather Outlook will resume on June 1,
2024. During the off-season, Special Tropical Weather outlooks will
be issued as conditions warrant.

$$
Forecaster Bohlin
NNNN